January 31, 2019 | All Blog Entries, Team | Nina Seligson
Nina Seligson, Wine Club Coordinator
Though I was born and raised in Marin County, over the past decade, I've moved ever-farther northward with my husband, and we currently live in Bennett Valley. As will happen when you live in wine country, I caught the wine bug several years back. I think what I find the most fascinating about wine are the stories; the tales of historic old vineyards, the histories of the families who farm them (sometimes for generations), and stories about winemakers and what inspires them in their craft. As Bella's wine club coordinator, these are the stories I like to share with our members.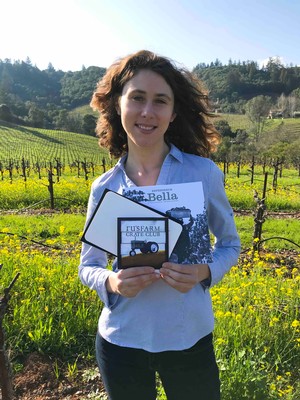 We understand that people who seek out and discover smaller family-run wineries like Bella are searching for a deeper connection with the wines they drink. They love to explore and experience new wines in a way that is joyful and fun—not pretentious and pushy. Here at Bella, I am often the first point of contact for our members, that voice on the other end of the phone, or the person responding to your email. I came to the wine industry with a background in social services. And while working with at-risk youth might not seem like a natural foundation for being a wine club coordinator, I think there are parallels. I like to help and take care of people. I also understand that this often begins by listening, and asking good questions. I also try to remember my own experiences falling under wine's spell, and how they ultimately led to a deeper appreciation of Lily Hill, and Dry Creek Valley.
In a way, my approach is quite old fashioned. I'm here to make you feel comfortable, and appreciated, and to make sure that your experience is one that you'll remember fondly. Do you want to learn about and taste certain older vintages? I can make that happen. Would you like to plan a tour that's personalized to your tastes, or the mood you're trying to set for your guests? Not a problem. Did something come up and you need to reschedule your club shipment? Consider it done. Looking for a good nearby hiking spot? Let's talk.
Whether you're coming to wine country, or we're shipping a taste of wine country to your home, it should put a smile on your face. So, whatever you need, let me know. The Bella experience is more than what's in the bottle.
Cheers,
Nina